Reading Time:
5
minutes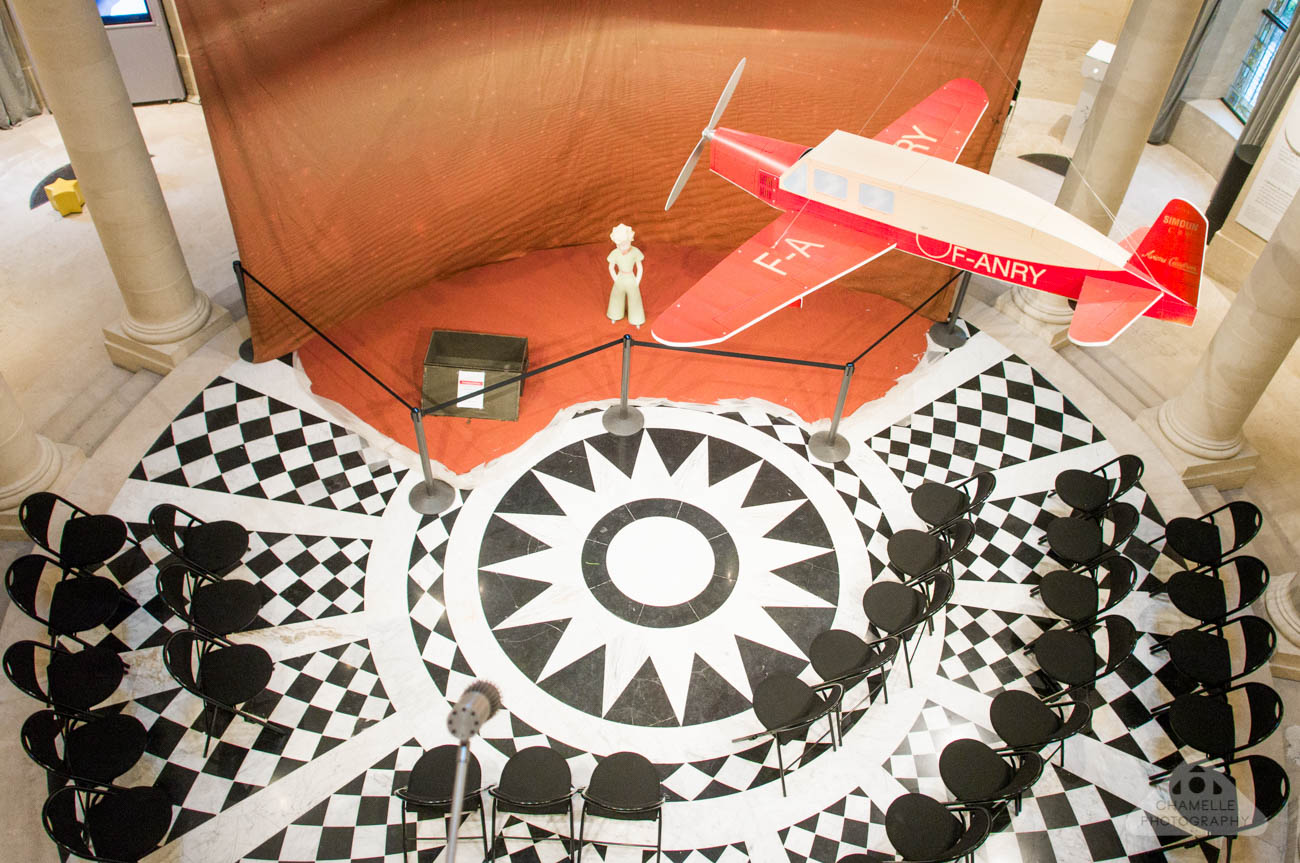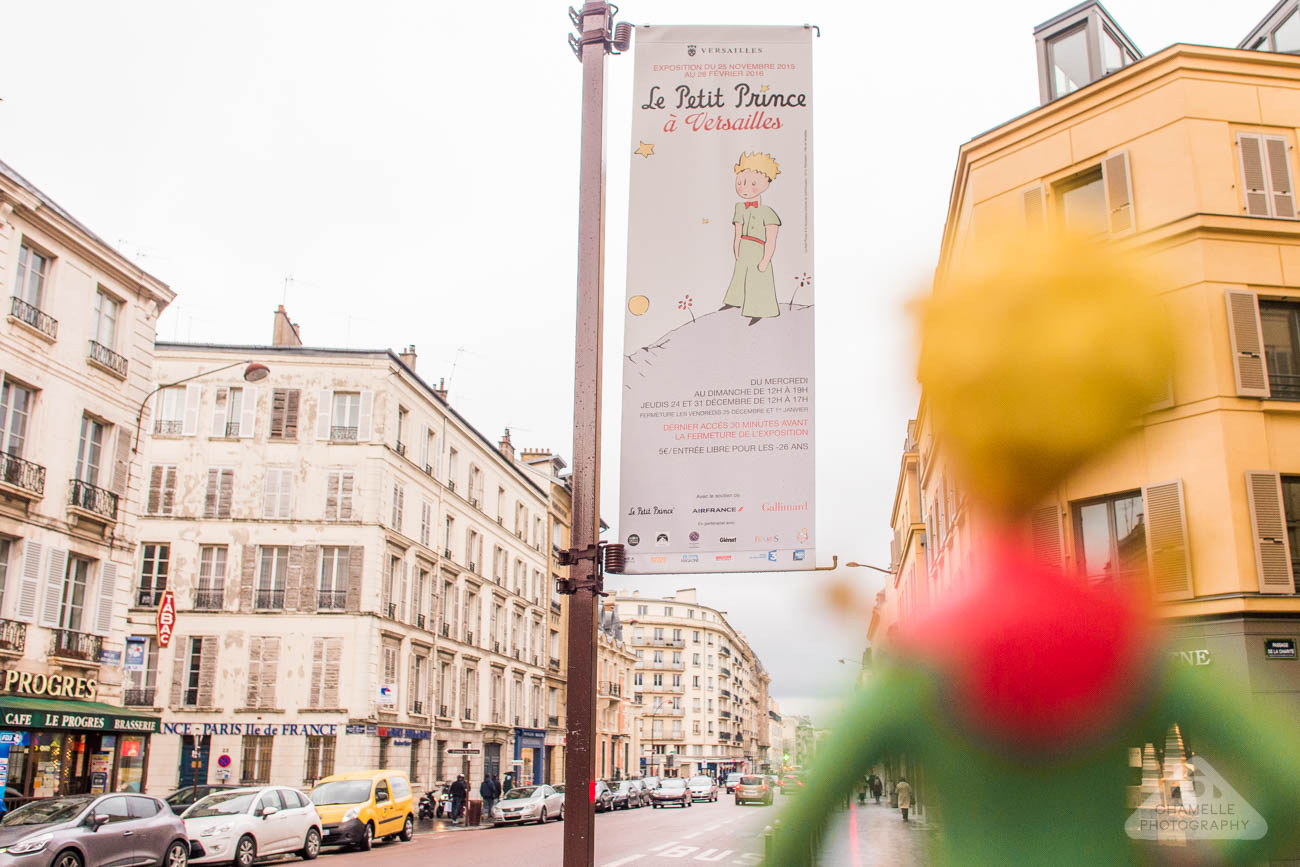 My Little Prince had been bugging me to take him to Versailles to see his exhibition. It's only on until the end of February so I had no choice but to go right now (and secretly, I wanted to see it myself too). Away we went! We caught the TGV train from Lyon to Paris, and then the RER commuter train from Paris to Versailles (after having a short stay in Amsterdam). I have to say that I found the RER super relaxing, it's nothing like the cramped tiny metro trains, it reminds me of the Sydney trains which are more spacious and as luck would have it, this train was almost empty! I was free to simply look out the window and daydream…
Having been to Versailles only 5 months prior, you'd think I'd know exactly how to get there, right? Wrong! I did exactly what I did back in September and took the RER to Rive Gauche (Versailles Chantiers). It wasn't till I was on the train that I realised I was not going to see the château this time so I should have taken the line to Rive Droite. Please note that these are two entirely separate train lines, the stations are not on the same line.
Not to worry, sometimes mistakes turn out to be positive things!
During my last trip to Versailles I had wanted to explore the city as well (yes, it's a city, not only a castle!) but realised we would not have enough time. In fact, we didn't even have time to explore all the castle grounds. But because I now had to walk from Rive Gauche to Rive Droite I was forced to walk straight through the city and I saw the part that I missed back in September and I was pretty excited about that.
Still, I couldn't stay long as it was already fairly late in the day when I arrived and getting dark very quickly and the prince was hurrying me along… After a ten minute or so (ok maybe 20 minutes for me because I wanted to stop and look at everything) walk we arrived.
The exhibition was held in Espace Richaud (Hôpital Royal). Constructed in 1781, it was formerly the Versailles Royal Hospital. After the transfer of the hospital to Mignot site in 1981, Espace Richaud experienced many years of abandonment and deterioration. Extensive renovations were done on the property where it was restored to its former glory and finally reopened to the public in April 2015.
This monumental building has now become an important exhibition space. The first exhibition to be held here was none other than everyone's beloved children's book, Antoine de Saint Exupéry's  Le Petit Prince (The Little Prince).
This exhibition was well worth the entry fee of 5€ IMHO. First of all the building itself and the gardens were gorgeous. Sure being February there weren't really any flowers around but I could already imagine in my head how beautiful it would be come spring with all the flowers blooming and the fountain running. Architecturally, the black and white checkboard pattern in the centre of the floor and the domed high ceiling were really impressive and beautiful.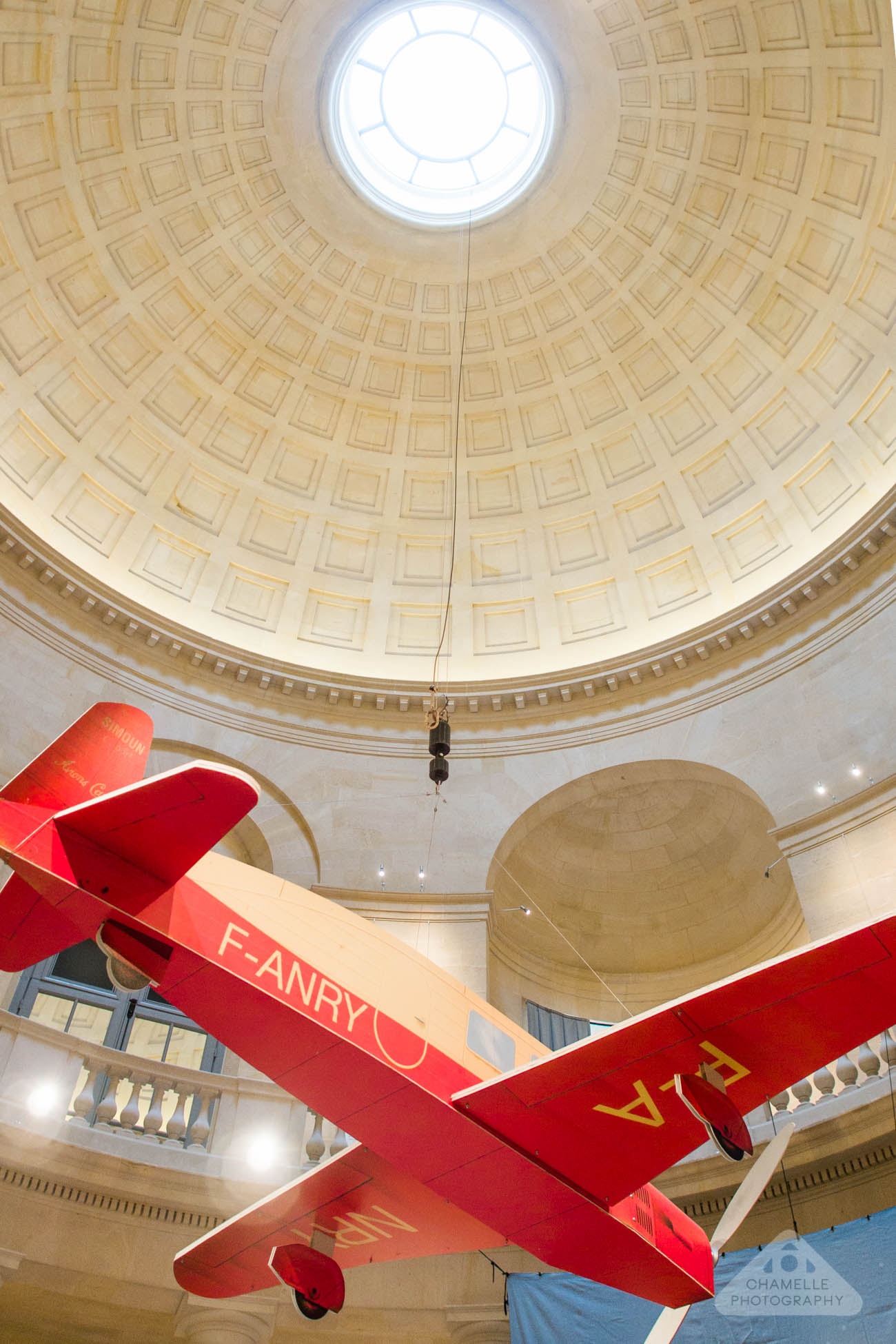 The exhibition was pure delight for the young and the old.
It was housed on three different floors, with different 'chapters'. Starting on the ground floor the first 'chapter' gave us a plot and character synopsis (if you weren't familiar with it already).  The giant red plane dangling from the ceiling was also super cool and whimsical, adding to the atmosphere of the space.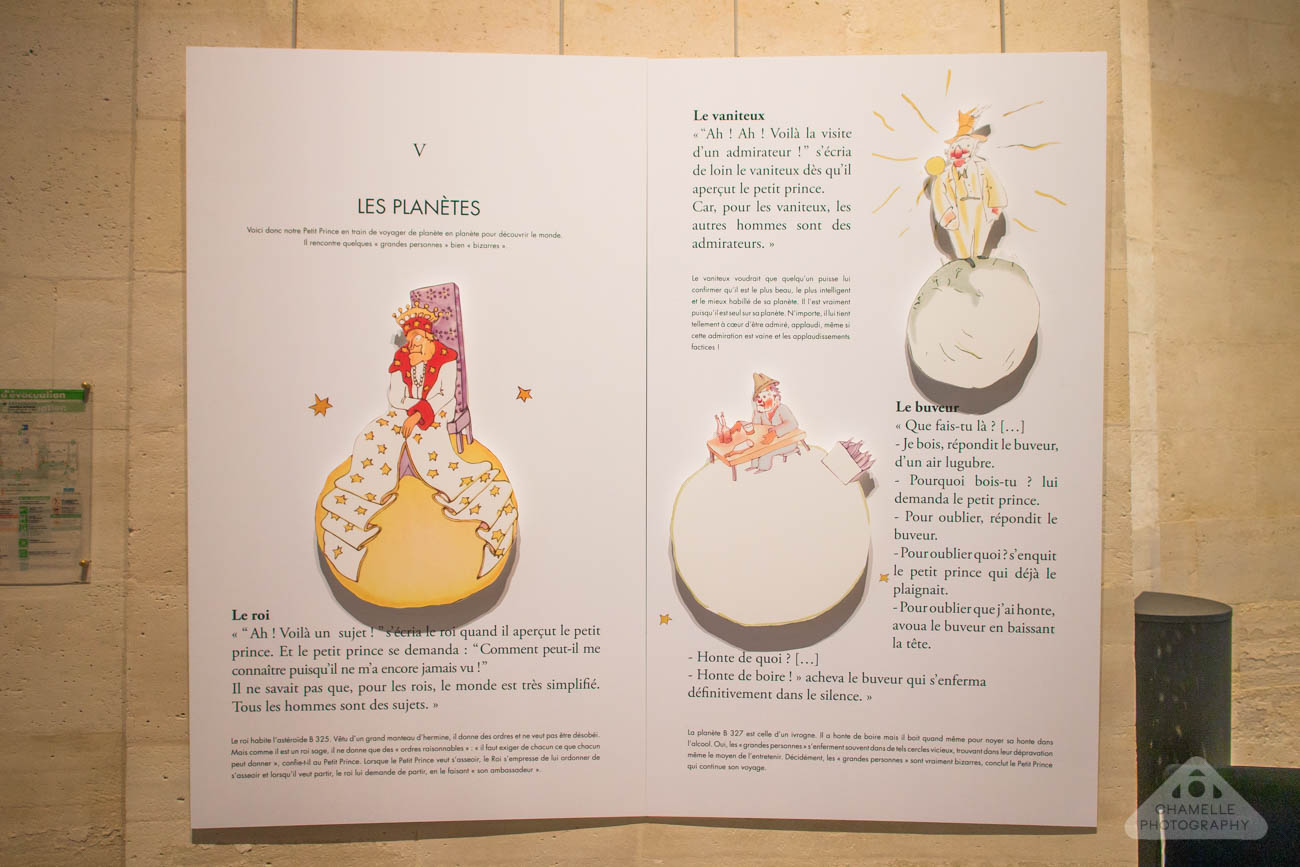 Still on the ground floor in another room, the second 'chapter' introduced us to the author, Antoine de Saint-Exupéry, an extraordinary personality, writer, poet, aristocrat, journalist and pioneering aviator. The exhibition traced his life, his childhood and his amazing career.
Having seen the Anne Frank house in Amsterdam only the day before, at one point I suddenly became very emotional. Afterall, we're talking about two of the world's best-selling and wellknown books, having sold millions of copies (Le Petit Prince: 145 million and Diary of Anne Frank: 30 million) and being translated into many languages (270 and 70 respectively). Although their authors both died way before their time (44 and 16 years of age) in tragic circumstances during World War II, they've both left an everlasting legacy. It was Anne's greatest dream to become a published writer and it was the same for Antoine. I admit I hadn't read that much about his life prior to coming to this exhibition but it was there that I learnt he didn't actually want to become an aviator, he only did that as a way to earn his living ("gagner sa vie") as they say in French. He knew he wanted to become a writer when he was only 6 years old and from this young age he began and writing and illustrating stories.
I particularly enjoyed this room where I not only learnt about his life but saw real life artifacts including one of his notebooks, and original watercolour art. Many pieces were from the Air France Museum's collection which have never been exhibited to the public before. There were also several different language versions of the book including some bizarre and rare ones like one where the entire book was written with numerals (based on the system where we used to have to send text messages by pressing numbers on our non-smart mobile phones)!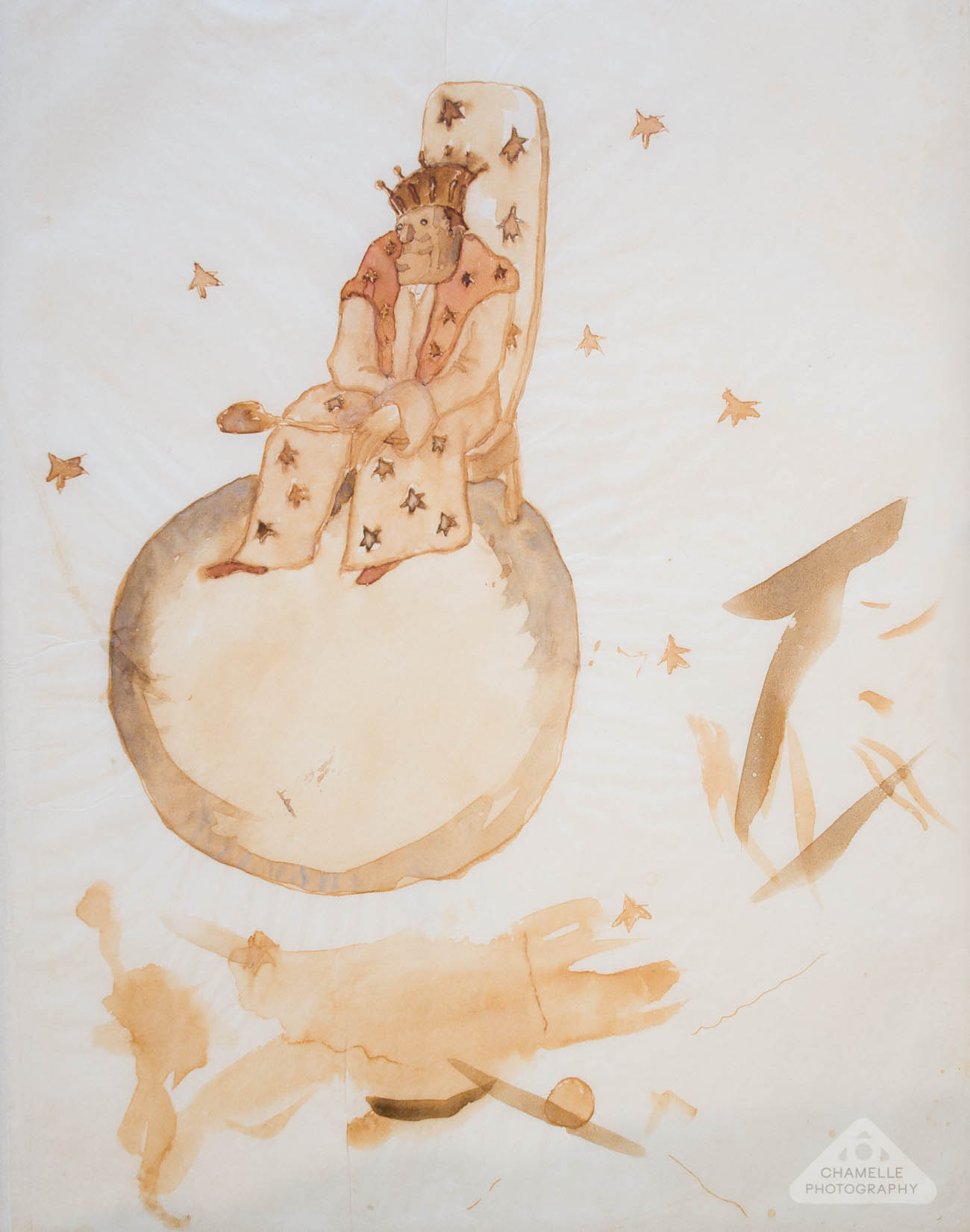 Over on the first floor, the third 'chapter', we saw posters describing the main characters in the book again, but in much more detail. My guess is that the ground floor was aimed at kids (with parents or grandparents reading to the kids) and the upstairs is aimed at adults who want to learn more.  It was so deep it was more like a scholarly analysis of the meaning behind all the characters. The giant 'sheep in a box' was particularly adorable, except there wasn't a sheep inside, but 3 peeping holes for seeing into the worlds of key characters in the book. My Little Prince was also particularly happy to see his Rose! 😉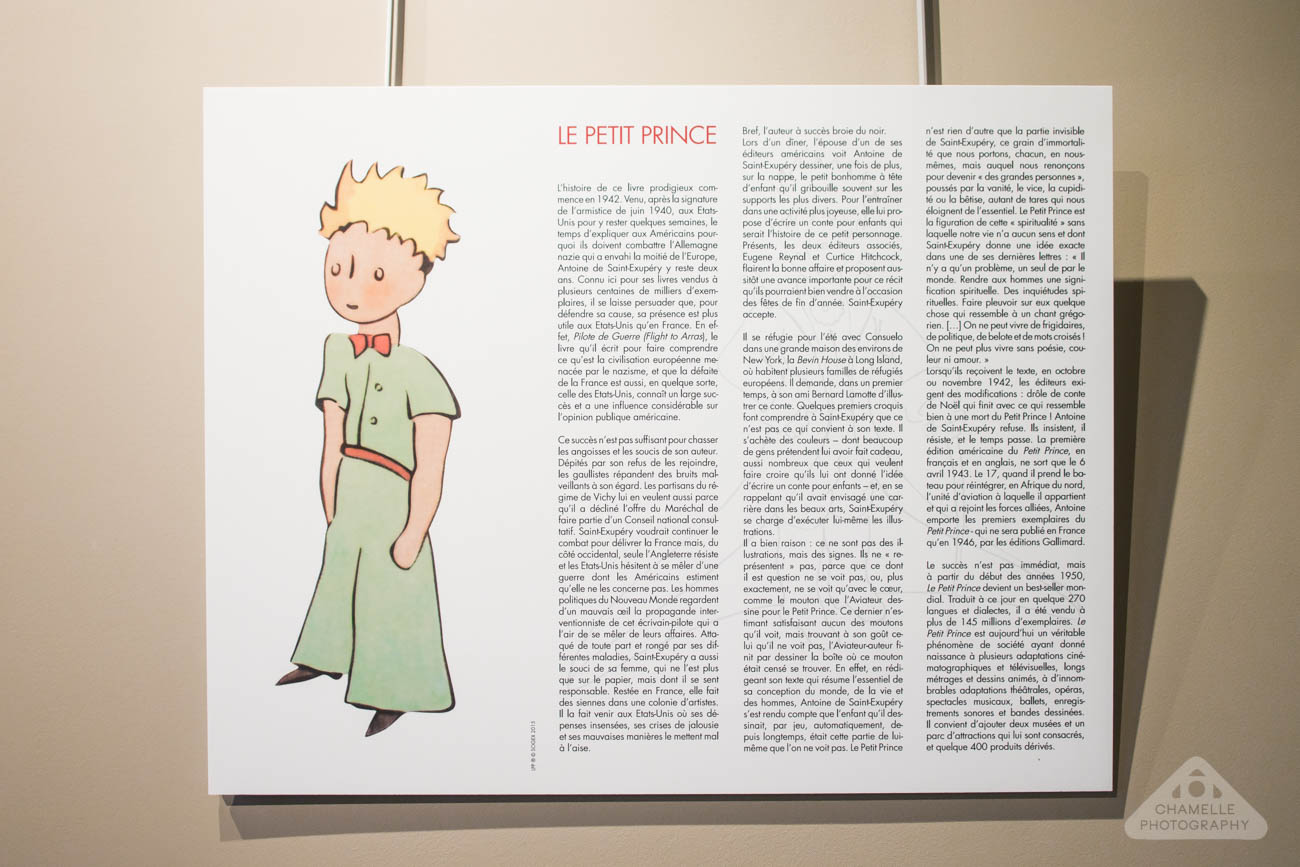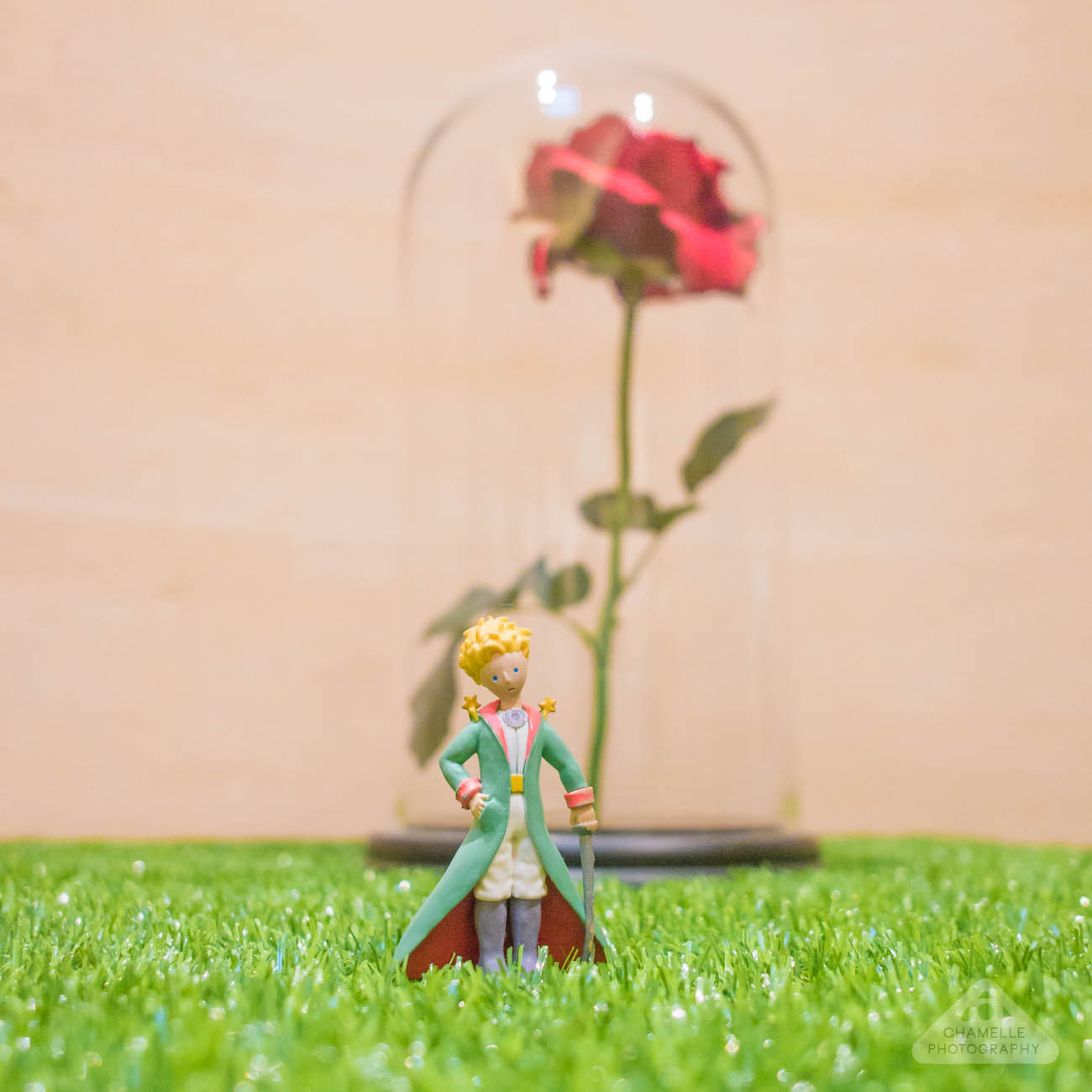 On this floor we also saw the hand-written and hand-drawn sketch book of Mark Osbourne who made the recent The Little Prince animated film.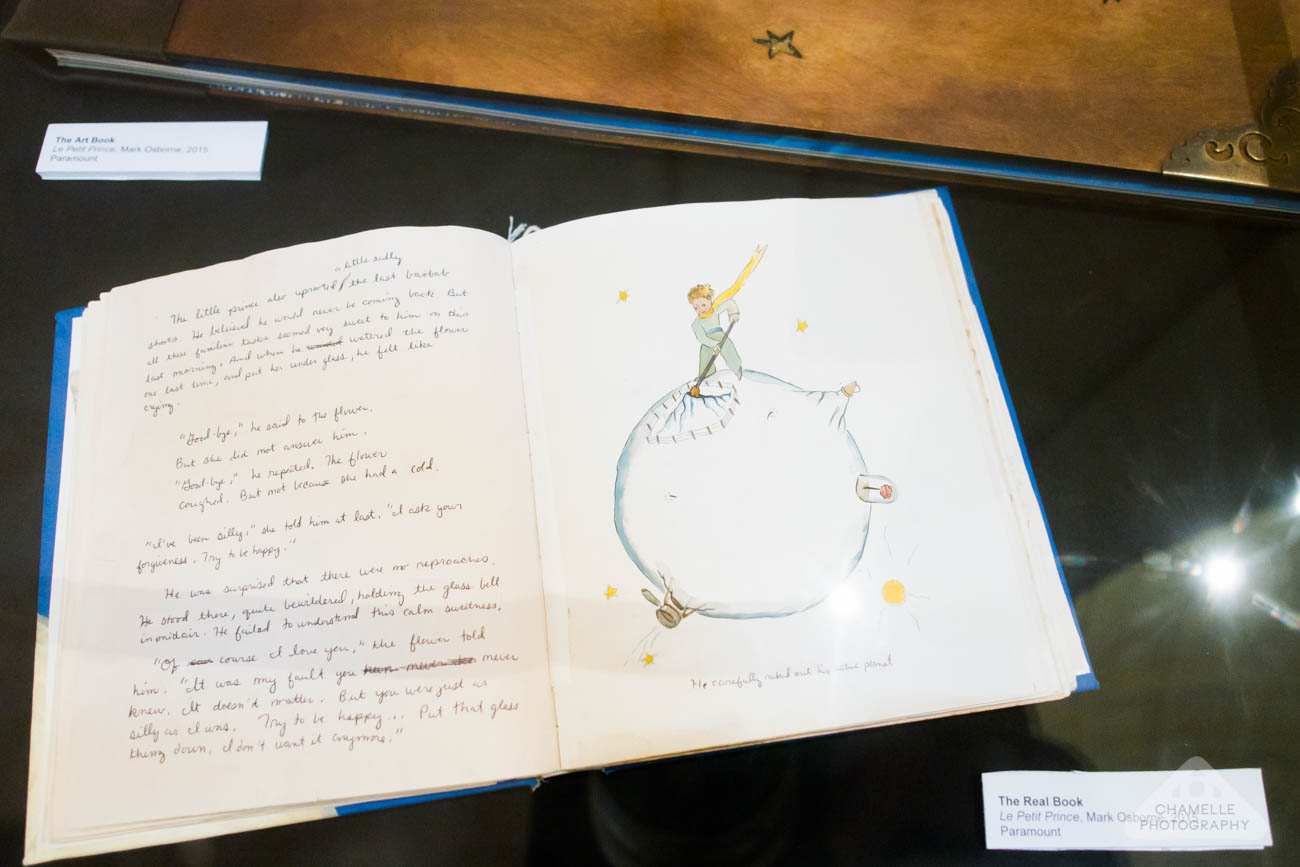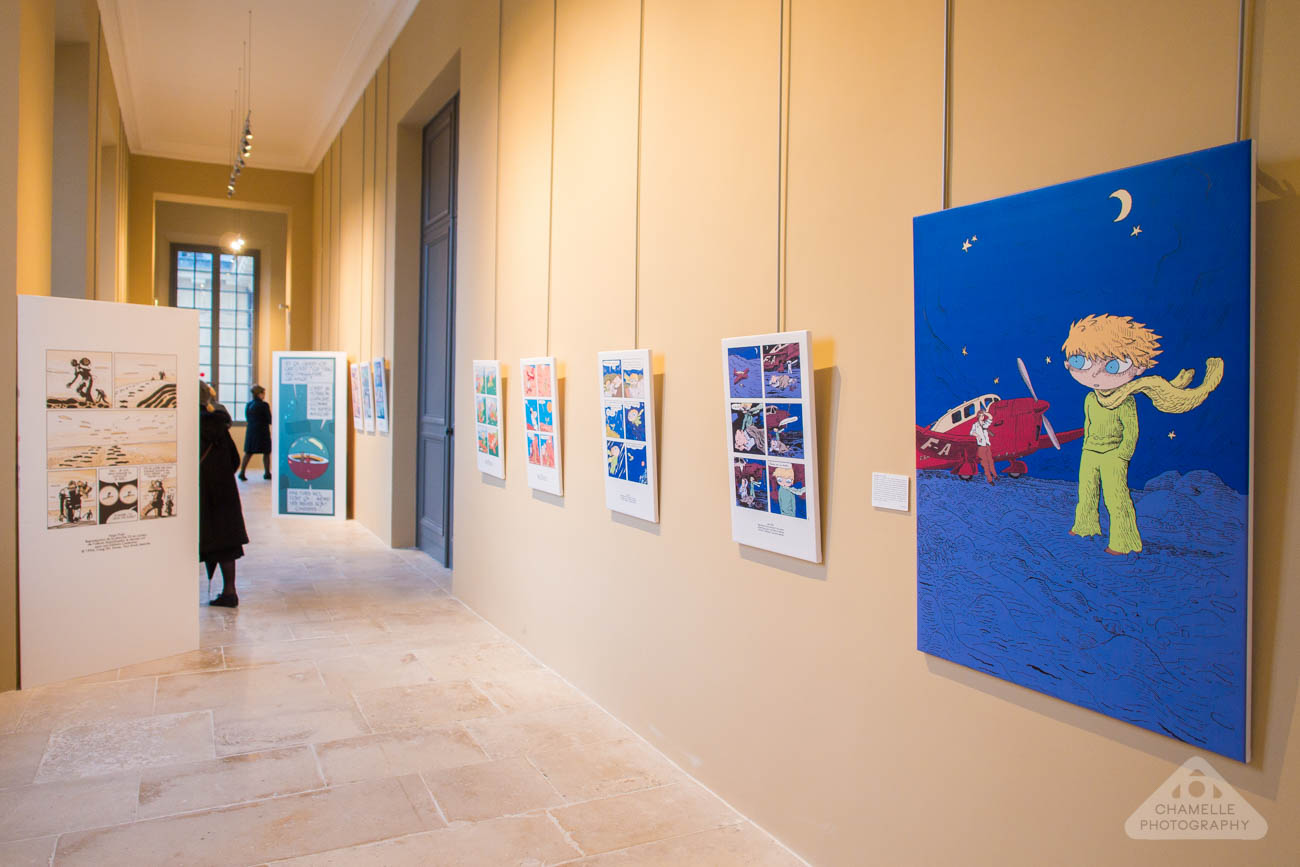 In the fourth 'chapter' we saw a cool comics art gallery and discovered the works of some great modern comic book artists who paid tribute to The Little Prince and his author.
Finally, down in the basement, the fifth and last 'chapter' was dedicated to the animated film, released in France in July 2015 and in various other countries over the following months. (It still has not been released in any English speaking countries yet but comes out in the USA on 18 March). I particularly enjoyed this section having seen the film as soon as it came out and subsequently buying the Blu-Ray DVD.
The film was created from a complex mix of delicate 3D paper models, old and new animation techniques by production designer Alexander Johasz and we got to see some of these beautiful models and sketches in this room.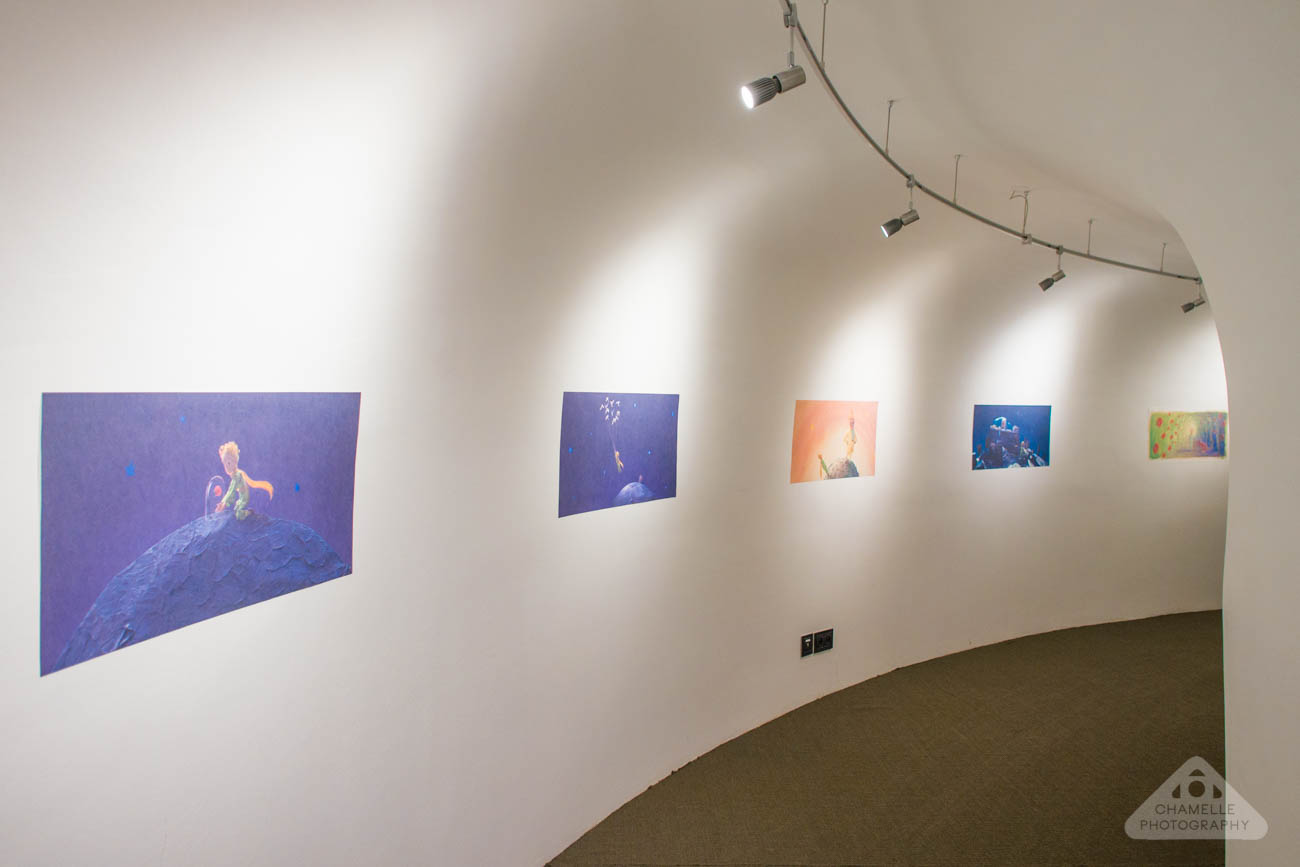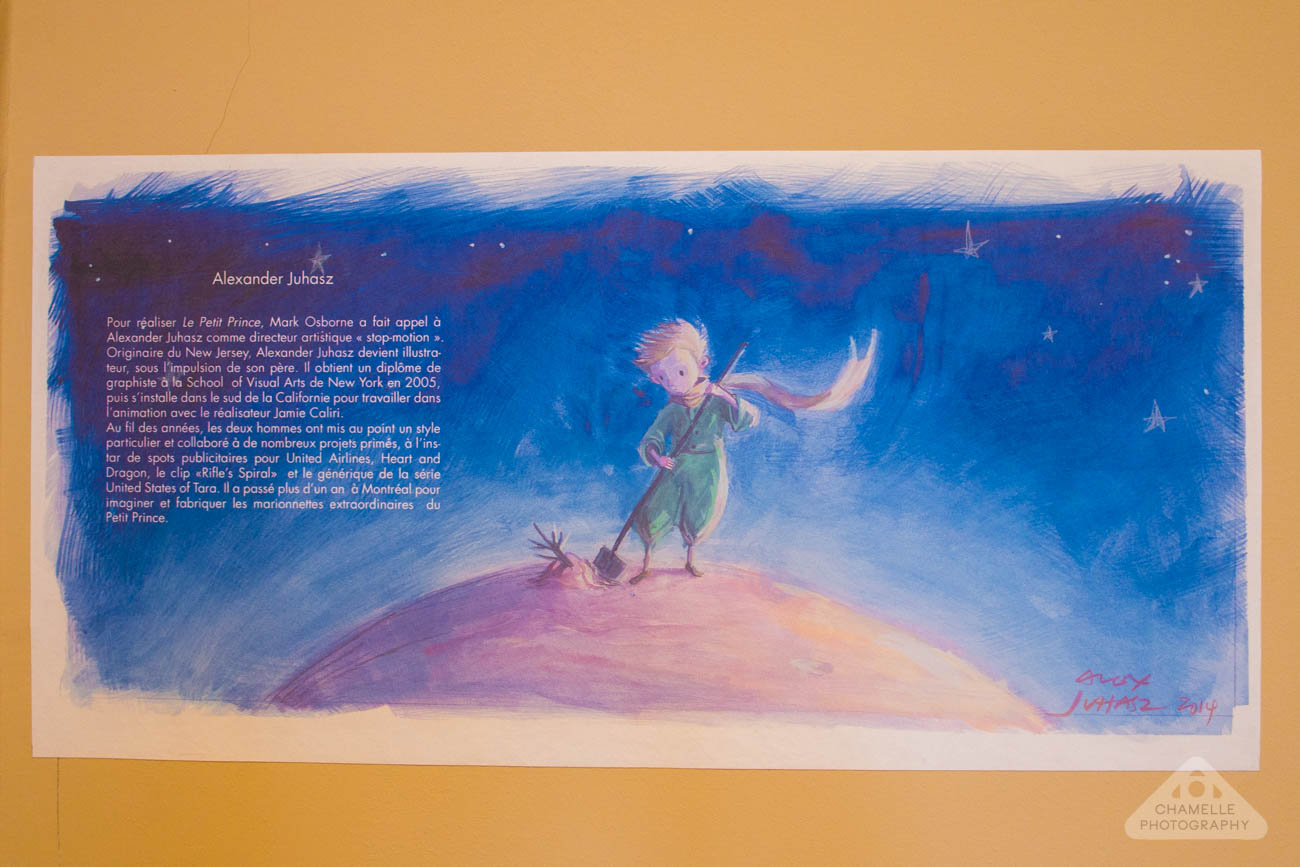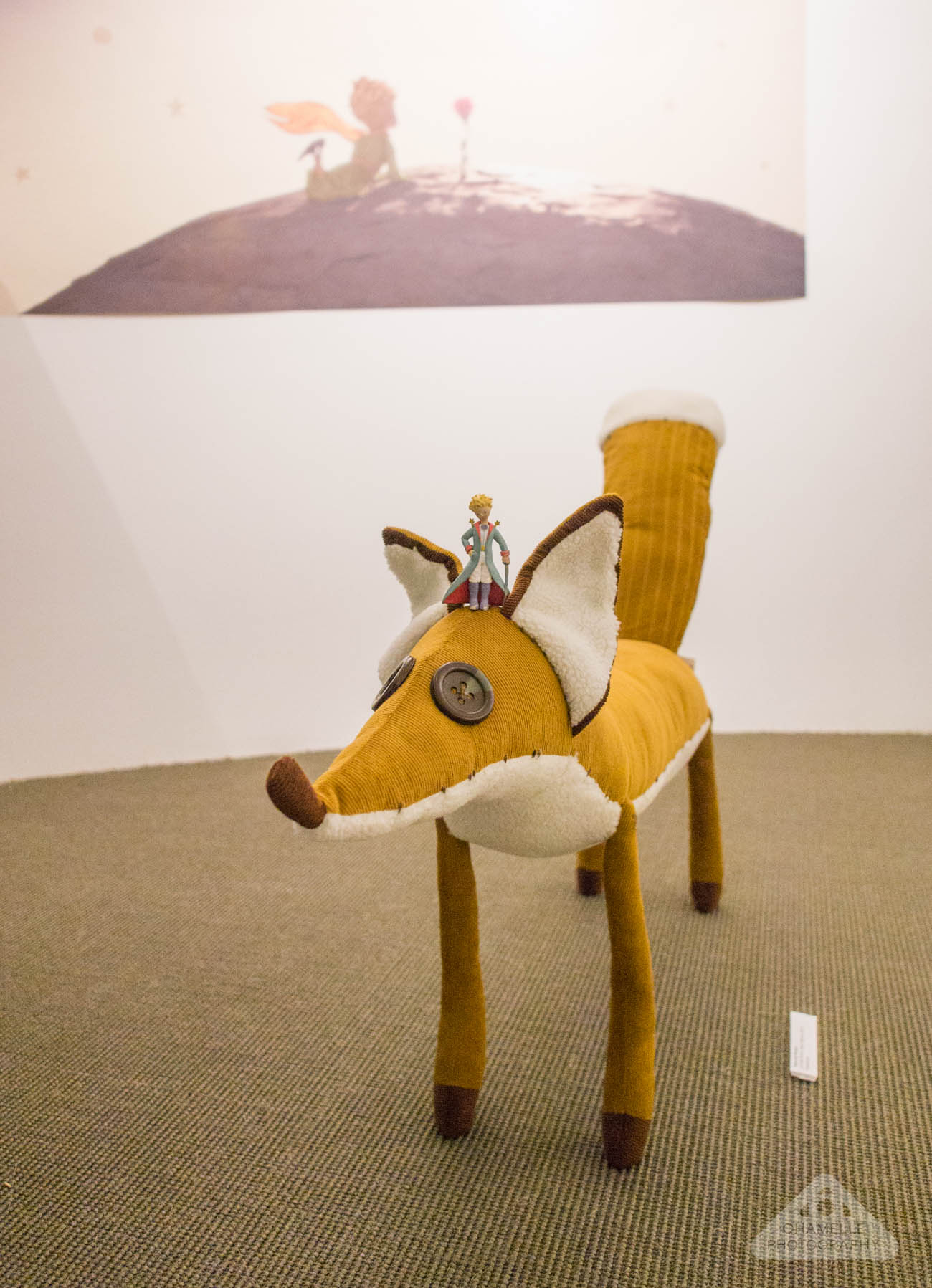 I like that throughout the museum in random places like along the handrail of a staircase or behind a door you'd find random quotes from the book reminding us what is truly important.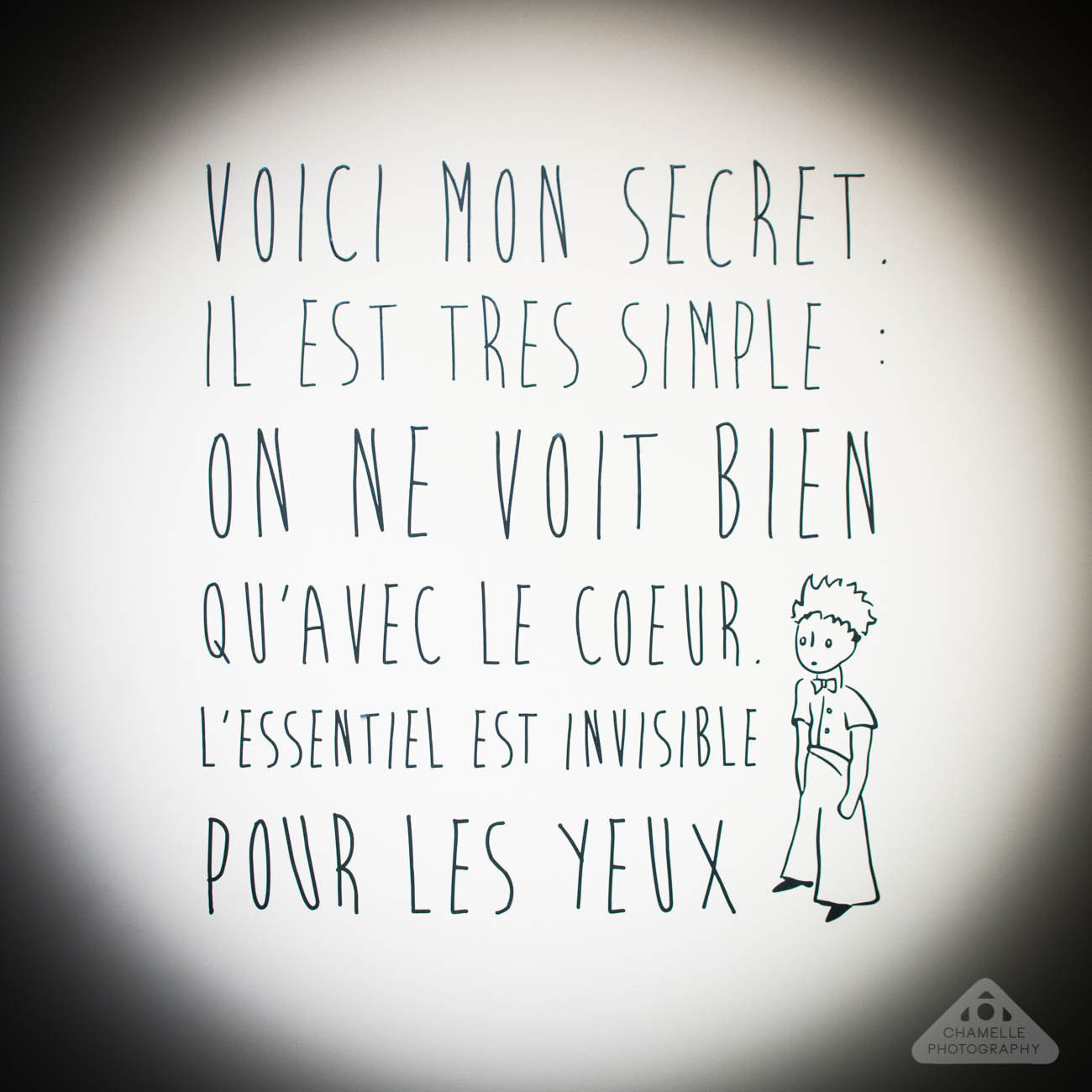 "Il est très simple : On ne voit bien qu'avec le coeur. L'essentiel est invisible pour les yeux. " (It's very simple: It's only with the heart that one can see rightly. What is essential is invisible to the eye.")
All in all, I thoroughly enjoyed this exhibition, even more than I expected to. I hope it does a tour around other parts of the country. If it had been spring already I could have happily spent an entire day in Versailles checking out not only this exhibition and the stunning gardens but the city as well…
Here is a link to an article talking about an exhibition in New York in 2014. I found it really interesting and insightful.
BTW here's the trailer for the film:
Although the story is slightly different from the book I think that's what makes it so special, it's not just an exact copy of the book but the story has been adapted for a modern audience. The soundtrack by the acclaimed composer Hans Zimmer is also hauntingly beautiful. If you haven't seen it yet, you should (especially if you are a fan of animated films)! 🙂
NEWS: The film has won the 2016 César (French Oscar) award for best animated feature length film.